Grant Thornton Malta forms part of one of the world's largest international professional services network. Over the years the firm has successfully assisted clients from various areas of business to achieve their objectives. A constant challenge faced by our clients is raising finance to fund their ideas and achieve their goals. As part of our service offering, we guide clients through the process of raising funds. Grant Thornton Malta employs a team of specialists from different disciplines who have decades of experience raising finance through various methods, including bank financing, EU funding, capital markets, mergers, acquisitions and private equity. Our clients are varied in size and sector operating at all levels of industry across a wide range of sectors including retail, real estate, hospitality, renewable energy and technology.
The Prospects MTF market
With over ninety per cent of all companies in Europe falling under the SME category, one of the challenges that these companies face is difficulty to access capital. The same applies to Malta and whilst the island has its fair share of smart and industrious entrepreneurs, their capacity to grow, either organically or through merger and acquisition, is very often curtailed due to difficulties faced in accessing capital.
Prospects MTF can be the perfect venue for SMEs to raise capital either by way of equities or bonds. Prospects MTF aims at facilitating access to finance, potentially offering a more cost-effective and easier-to-access alternative to other traditional means.
Prospects MTF stats
Over the last two years the Prospects MTF market has gained substantial popularity amongst local small and medium sized (SMEs) operators. This has enabled a number of local, well-established family businesses and also enthusiastic entrepreneurs to grow and expand their operations by obtaining the necessary funding. In total 18 companies have been admitted to Prospects MTF, 17 of which issued fixed income securities with coupons varying between 4.75% and 5.75%. This has resulted in a total amount raised of €72.6 million. Companies considering admission to Prospects MTF need to appoint a Corporate Advisor, which must be retained throughout the lifetime of the security. Grant Thornton is one of the 20 approved Corporate Advisors and is appointed Corporate Advisor to seven companies admitted to Prospects MTF.
Over the past two years the growth in secondary market activity on Prospects MTF has been substantial. In 2018 the market recorded 207 transactions amounting to a value of €1.2 million. The growth has continued into 2019 as the first four months of 2019 have already reached 2018 volumes. In fact, transacted volumes as at the end of April reached 181 with a total value of €1 million.
We have conducted an internal analysis which illustrates the yield-to-maturity (YTM) of those bonds which are currently admitted to Prospects MTF. This has resulted in YTMs ranging from 4.38% to 5.72% as illustrated in the summary below.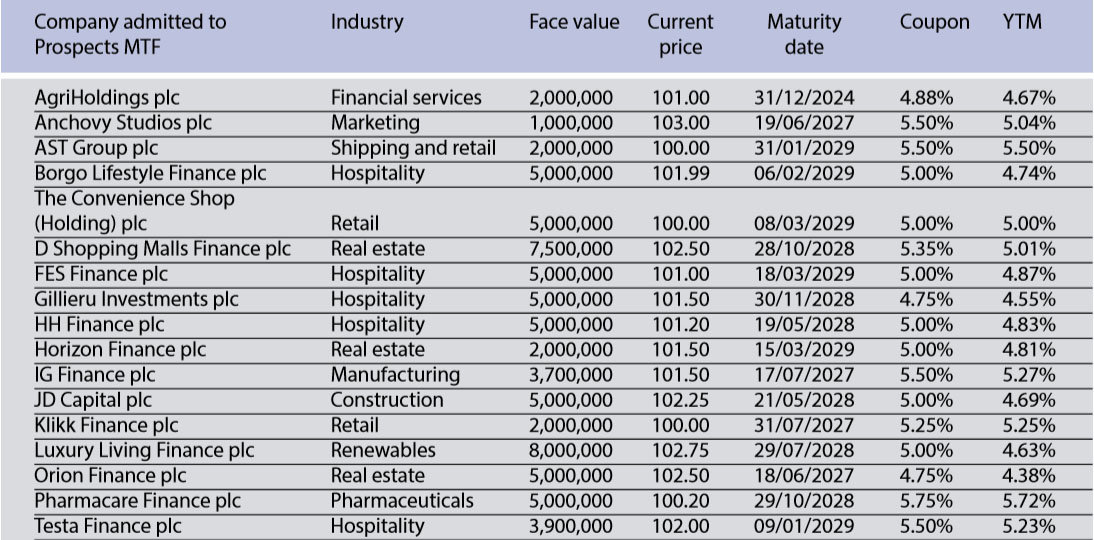 Recent changes to the rules
Prospects MTF rules were updated in January 2019. In view of the changes to the rules, issuers can now raise up to €8 million.
The updated rules have introduced more stringent requirements for raising bonds. Accordingly, newly admitted debt securities must now be either fully secured and/or backed by intangible assets or where such debt securities are not secured or only partially secured, the Issuer must have a soundtrack record. However, the ultimate decision always remains at the discretion of the Malta Stock Exchange.
How we can assist you
One of the fundamental requirements to be admitted on Prospects MTF, is the appointment of an independent and impartial Corporate Advisor to guide the company throughout the lifetime of the instrument. Grant Thornton's capital markets team headed by George Vella and Dr Wayne Pisani can assist your company throughout the whole process, including a feasibility assessment, setting up the company structure, assisting with the appointment of Directors and drafting of all the required documents. Subsequent to the admission to Prospects MTF we act as a corporate advisor for the duration of the instrument and assist with all the ongoing obligations under the Prospects Rules.
George Vella, Partner for Transaction Advisory Services - "The aim of Grant Thornton is to assist the client with all types of transactions by adding value with the work we do and creating a long-term working relationship".
Case study: Orion Finance plc (€5 million bond issue)
Anthony Camilleri Chairman & Executive Director: "The bond issue on Prospects MTF has helped the Camilleri Group to meet its main strategic goal of consolidating its growth in the property management business."
Download the informative brochure
Download PDF [42160 kb]