Tourism continues to be one of the main contributors to GDP
2018 was an exceptionally good year for Malta's tourism industry as the number of inbound tourists reached a record 2.6 million, reflecting an increase of 14.3% over the previous year. This has ensured that the sector remains a major contributor to the Maltese economy and, according to the World Travel and Tourism Council, accounts for 27.1% of the country's Gross Domestic Product (GDP) when the wider effects from investment in tourism and its supply chain are taken into account. This represents a contribution that is much higher than that in Europe and the World, where tourism contributed 10.3% and 10.4% to GDP, respectively.
It is thus not surprising that the World Travel and Tourism Council also reported that the Maltese tourism sector's contribution towards local employment has increased consistently throughout the past few years. This positive performance is expected to continue in the near future, with the sector's value added expected to grow by 4.2% p.a. to reach 32.9% of GDP by 2028; largely due to the island's attractiveness as a versatile tourist destination.
Download full article
Download PDF [1880 kb]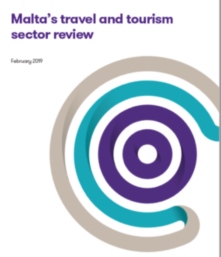 Total tourist expenditure increased despite the decline in the average length of stay
During 2018, total tourist expenditure amounted to €2 billion; an increase of 8% over the previous year. Spending on "Food and beverages" accounted for the highest share of total tourist expenditure, followed by recreational activities consisting of excursions and site visits.
Despite the increase in total tourist expenditure, the expenditure per tourist decreased by 5.5% to €809, in part reflecting a decline in the average length of stay from 7.3 days in 2017 to 7.1 days in 2018. In line with the previous year, the highest spending tourists originated from Australia, Switzerland and USA, while the lowest spending tourists were Hungarians spending an average of €586 per visit.
Continued growth in demand for non-hotel accommodation
Growth in hotel guests is mainly attributable to an increase in 4-star hotel nights, registering an increase in 66.6k guests (11%), however the highest increase was experienced in 3-star hotels which increased at a rate of 13%. The two other categories experienced a marginal decline in guests being 5-star hotels by 1% and 2-star hotels by 0.3%. Other accommodation types, comprising of guesthouses, hostels and tourist villages, increased by 37% in 2018 when compared to the corresponding period of 2017.
Net use of bed places (occupancy rates) increased in all types of accommodation besides 5-star which remained constant. Occupancy rates in 3-star hotels experienced the highest increase in occupancy of 6 percentage points during the first three quarters of 2018 as compared to 2017.
On average, total occupancy rates increased by 3 percentage points from 52% during the period of January to September of 2017 to 55% during the corresponding period in 2018.
Tourists visiting Malta are mainly EU residents and visit for holiday purposes
The large majority of tourists visiting Malta are EU residents accounting for 84.7% of total inbound tourism. The highest share of EU tourists visiting Malta mainly originate from the UK, Italy and Germany. Non-European tourists are also constantly on the rise, with a 24.5% increase being registered during the aforementioned period.
Analysing tourism figures by purpose of visit, holiday tourists increased by 18.2%. This may have been due to the organisation of a number of events during 2018, such as the Malta Music Week, which continues to be a major tourist attraction. Another factor that may have influenced tourist arrivals was the series of events organised as part of Valletta 2018, the European Capital of Culture for the year. In contrast, visits for educational, religious and health tourism purposes declined by 18.1%.
The aviation industry as an enabler of tourism
Although air passenger movements reached a record 6.8 million during 2018, Malta International Airport (MIA) is forecasting a further increase of 5.8% in traffic for 2019. Furthermore, MIA is currently collaborating with the Ministry for Tourism and the Malta Tourism Authority on a strategy regarding route network expansion. Through this significant investment program, Malta will continue to improve its airline connectivity across neighbouring strategic areas in 2019 and beyond. This highlights the existing confidence in the nation's potential as a top tourist destination even during the off-season period.
Why Grant Thornton
Are you in or interested in the tourism industry?
Grant Thornton offers a wide variety of services to support your needs, including:
- Market research
- EU funding
- Business planning and performance improvement
- Business valuation and litigation support
- GDPR compliance
Other services include:
- Business consulting
- Business process outsourcing and consulting
- IPOs and other financing
- Internal audit
- Business risk services
- Risk management and internal controls consulting
- Mergers and acquisition
- IT business consultancy
- Restructuring and reorganisation
- Foreign direct investment transaction advisory services and due diligence
- Quantitative risk advisory
As a leading advisor to the financial services industry, we offer in-depth industry experience, extensive international connections and innovative solutions to help you innovate and grow.
Can REITs provide new options for real estate finance in Malta?

As part of the 2019 budget, the Maltese Government has pledged to introduce a Real Estate Investment Trust (REIT) framework in Malta. This can result in a significant increase in the availability of financing for projects within the real estate sector in Malta.

What are REITs?

Real Estate Investment Trusts are companies who own and manage various types of properties. These companies earn regular income through the rental of these properties which is then distributed to shareholders in the form of regular dividends. The companies also offer investors the potential to gain from the long-term appreciation of properties within the company's portfolio.

A number of countries across the world have put REIT regimes in place, allowing investors to benefit from the structure's features. This includes around 14 countries within the EU, such as the Germany, France and Italy. REITs are generally required to be publicly listed companies.

Benefits of REITs

While REIT regimes vary from country to country, the structure delivers a number of common benefits. The main benefit of the structure is that it allows investors a tax efficient way to invest in real estate projects, including large-scale projects in which they would otherwise not be able to invest on an individual basis. This allows for greater liquidity within the real estate sector, with investors also able to achieve greater diversification. The introduction of an REIT regime also opens up real estate investments to more investors, including both professional and retail investors, increasing financing options for real estate projects.

REITs are generally required to distribute a large proportion of their earnings to shareholders through dividends. This allows investors to earn regular returns from real estate without the complexities of owning and managing physical property.

The significant scale of typical REITs allows for the companies to have more dedicated resources providing professional management of properties, benefitting both investors and tenants. This scale also allows REITs to finance projects in a more effective manner and provide stable financing for projects being undertaken.

Being listed entities, REITs also provide investors more regular, transparent disclosures. In addition, the European Public Real Estate Association (EPRA), a prominent organisation within the European publicly traded real estate sector, has issued best practice recommendations which have been adopted by a larger number of REITs, allowing for further reporting disclosures over and above public reporting requirements.

Types of REITs

REITs generally focus on specific real estate sectors, using sector expertise to improve properties and provide robust returns to investors. These sectors include offices, retail properties, industrial properties and residential properties. Some REITs may take the form of diversified REITs, which own properties across a various sector within real estate.

A number of specialised REITs have also served to unlock investments that have significant social benefits. This includes REITs owning healthcare related real estate, such as GP practices, medical centres, hospitals and elderly care homes, which have helped support communities. REITs have also introduced innovative options for the financing of social housing stock in different countries.

While details of the REIT regime to be implemented in Malta have yet to be announced, the introduction of this framework can bring about a number of benefits. These benefits include easier access to real estate investments for a wider investor pool, improved transparency to investors and more professional property management. REITs can also act as vehicles to support investments which bring about a high level of benefits to society.