Malta Prospect Listing - Klikk Finance p.l.c.
Grant Thornton is pleased to announce that it has been appointed as Corporate Advisors for Klikk Finance p.l.c. in respect of an issue of €2,000,000 5.25% Unsecured Bonds 2027.
Klikk Finance p.l.c. (the Issuer) was incorporated on 12 May 2011 as a public limited liability company, registered in terms of the Companies Act with company registration number C 52833 and is domiciled in Malta. The Placement Agent, Manager and Registrar for the bond issue is Financial Planning Services Limited.


View Klikk Finance p.l.c.'s Admission Announcement by the Malta Stock Exchange
Download Klikk Finance p.l.c.'s summary note
Download PDF [1124 kb]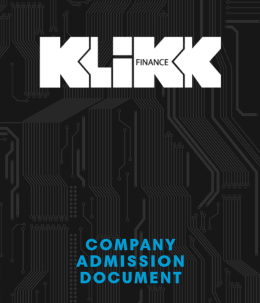 Announcements
1 August 2017
Company Announcement - KLF01 €2,000,000 Unsecured 5.25% Bonds 2027 - Prospect Notice 18/2017
(View admission announcement)
22 July 2017
Company Announcement
Klikk Finance p.l.c. (C 52833), of The Factory, Mosta Road, Lija, has issued a statement, in terms of the rules of Prospects, the market regulated as a multi-lateral trading facility operated by the Malta Stock Exchange.
The company announced that the offer of €2,000,000, 5.25 per cent unsecured bonds 2027, issued in terms of a Company Admission Document dated July 3, 2017 and offered via subscription through Financial Planning Services Limited in its capacity as placement agent, manager, and registrar, has been fully subscribed.
Subscriptions closed on July 21. In a statement, the board of directors of the company thanked its advisors Grant Thornton, Financial Planning Services Limited and the investing public, for their strong support in the bond issue.
3 July 2017
Company Announcement - PROSPECTS NOTICE 16/2017
(View admission announcement)
Download Klikk Finance p.l.c.'s full company admission document
Download PDF [9193 kb]