Malta Prospects Listing - AST Group p.l.c.
Grant Thornton is pleased to announce that it has been appointed as Corporate Advisors for AST Group p.l.c. in respect of an issue of €2,000,000 5.5% Unsecured Bonds 2028.
AST Group p.l.c. (the Issuer) was incorporated on 22 September 2014 as a public limited liability company, registered in terms of the Companies Act with company registration number C 66811 and is domiciled in Malta. The Placement Agent, Manager and Registrar for the bond issue is Financial Planning Services Limited.
View AST Group p.l.c.'s Admission Announcement by the Malta Stock Exchange
Download AST Group p.l.c.'s summary note
Download PDF [935 kb]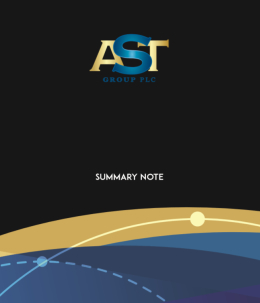 Download AST Group p.l.c.'s full Company Admission Document
Download PDF [8357 kb]